Today's outfit was created with a clear contrast between light and dark fabrics, but also simple and patterned fabrics. I love the way that a blazer can add so much to an outfit, and make something Boho suddenly preppy. Where I live it is currently cold in the early morning and evening, but warm during the day. A blazer is a wonderful way to embrace this. When adding jewellery, in particular a necklace to this outfit, as always it was essential to follow the neckline of the playsuit. The neckline is a V shape, therefore a layered necklace completes the look perfectly. A pearl ring with a cluster of small crystal stones was also added. Pearls have always been a soft spot of mine. Rather than just a plain pearl ring it gives a new vibe to preppy.

Have a fabulous week beautifuls!
Rach xx

Shop the look:
Powered by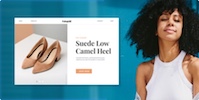 Create your own unique website with customizable templates.