NOTE: My views stated in this post about Mirina Collections and their products are no longer relevant. I will not be shopping with them in the future. Please take this post as outfit inspiration only.

Hello beautifuls!

As always before I begin, I'd like to remind you that if I don't believe in a brand or I'm not convinced that you will love it as much as I do, I wouldn't bother talking about it. Earlier this season I decided that I needed to get my hands on a gypsy coin necklace. Not long after I happened to be contacted by an amazing brand Mirina collections who wanted to grant my wish. I very quickly became a part of a wonderful and talented group of ladies, the Mirina Girls. I also fell in love with the incredible handmade pieces that

Mirina Collections

has to offer. Trust me, as soon as you start looking you will fall in love.

I must admit not long after I ordered my necklace my sister pointed out some similar incredibly cheap versions on Ebay. After this I became worried that I'd paid for a necklace I could've bought for cheaper straight out of China. I was completely relieved after receiving my necklace. Instantly after unwrapping the teal tissue paper, I could see that this was an incredible hand made piece with gorgeous detailing. Even the weight of the necklace showed me s

traight away that this was a well crafted piece that was clearly worth it.

This outfit of the day showcases the Summer style of this necklace. Alongside with a stunning leaf printed dress from Tobi, and my SS15 must have, a light sleeveless duster coat. I really wanted to encapsulate the feeling of Summer in a classic and classy way. Shop the look below from this outfit of the day.

If you would like 20% off not just Mirina Collections Famous Necklaces, but their entire site. Use the code violet20.

Have a lovely day beautifuls!

Rach xx

Shop the Look:
Powered by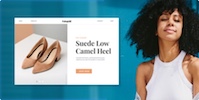 Create your own unique website with customizable templates.